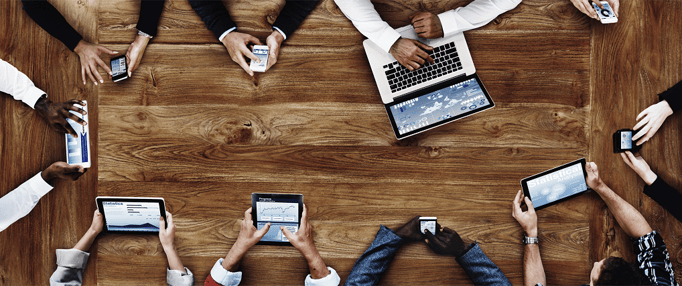 Today's IT leaders are expected to create a robust IT infrastructure that gives their business an edge over the competition. To live up to these expectations, an IT department needs to have a strategy in place that not only supports existing business operations, but will help the business transform and grow.
Unfortunately, most businesses lack an IT strategy that does more than just "keep the lights on." Organizations want a better level of service from IT, but without a sound strategy, will spend more than they need and still receive outcomes that are sub-par.
We sat down with Blake Abdella, our Chief Strategist and VP of Service Delivery, and he shared his thoughts on how businesses can achieve their organization's service goals by creating a Business Efficient IT (BEI) environment. He explains that the effective and efficient management of an IT infrastructure has become even more critical as companies look for ways to execute business strategies more quickly and with greater cost effectiveness.
How can IT move away from just "keeping systems operational" and spend more time growing and transforming the business?
They can do this by creating and implementing a BEI environment. BEI takes the economic definition of efficient and applies it to IT; giving the optimal combination of people, processes, and technology operating at the highest level of efficiency for the lowest investment.
"Business Efficient IT doesn't just occur by happenstance," Abdella says. "Achieving a BEI environment requires a disciplined and strategic approach focused on managing the IT lifecycle and creating better IT outcomes."
As the chief strategist for Xigent Solutions, Abdella says the quickest way to achieving BEI is by first understanding an organization's current IT state in comparison to their desired state. Armed with that knowledge, an organization can build a strategy to close the gap.
How to determine an IT organization's level of capabilities and maturity?
Xigent Solutions starts with an analysis of an organization's operational capabilities and places them in to one of four levels of maturity:
Ad hoc: Their processes and technology are reactionary – meaning that they don't plan around what could happen. This is the lowest level of maturity
Standardized: They've standardized their infrastructure and tried to find ways to drive efficiencies and be more productive in the use of their technology.
Efficient: They've gone beyond standardization and achieved efficiencies in how they deliver, manage, and use their technology.
Dynamic: They're able to rapidly change and have high degrees of automations.
Once the current level of maturity is determined, the next step is to establish the desired level of maturity that delivers a BEI environment and to determine what technology and capabilities the organization would need.
"Executed properly, this analysis will yield a clear understanding of the level of IT performance needed to support the business goals," Abdella says, "We then put together an actionable plan to improve the capabilities and technologies needed to support a BEI environment and achieve those goals."
What are the benefits of creating a BEI environment?
Achieving a BEI environment requires a strategic approach, long-term commitment, and for IT leaders to think in a new and holistic way about their department's role in the business. Organizations that work toward a BEI environment over time will see benefits like:
Strategic alignment of IT and the business.
Clear agreement of the capabilities IT needs to support business goals. Understanding this also engages IT with business expectations.
Areas needing improvement agreed upon and prioritized as well as the level of investment necessary to achieve them and drive greater IT efficiency. This also frees up people and capital allowing IT to focus on helping grow and transform the business.
IT services delivered more cost effectively.
Summary
Organizations can no longer have an IT department that just maintains the status quo. Businesses are looking for IT to improve not only IT outcomes but also help transform and improve the business. Xigent Solutions helps businesses reach their IT goals by analyzing their IT capabilities and maturity and getting them on the path toward Business Efficient IT.