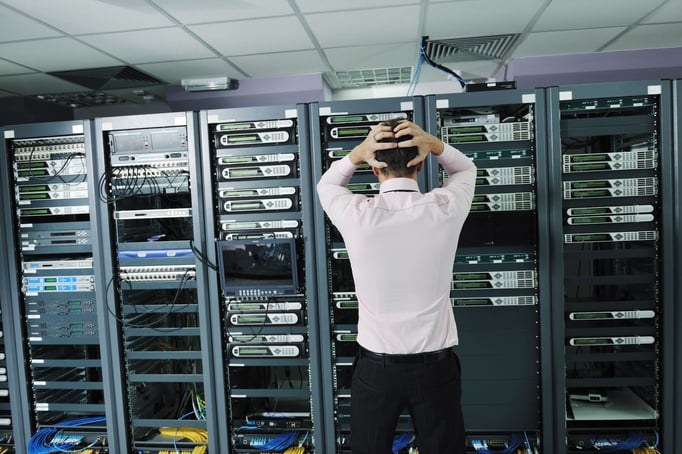 Having a tried and tested disaster recovery plan is a business's safeguard against unexpected catastrophes.
Compounding the personal loss suffered during a natural disaster, many organizations and businesses lose offices and servers containing the critical data they need to rebuild. Even those with their data backed up may still struggle to access their information without a disaster recovery plan in place. There are plenty of real-life reminders in the news of the damage a natural disaster can do to businesses. Amos Aesoph, Senior Solutions Architect and XHS Security Officer, explains the importance of a disaster recovery plan and the questions businesses should ask about it.
What is Disaster Recovery?
Unexpected events like floods, fires, robberies (virtual or physical), or malware can destroy the data, servers and equipment necessary for a business to function. Disaster recovery consists of both the technology and the process that outlines the steps a business would take in the event of catastrophe.
"Disaster Recovery is the process of replicating an environment and the hosting of physical and virtual servers at a remote location, so that there is the ability to fail over in the event of a manmade or natural disaster for the customer."
Businesses who have a disaster recovery plan and house their data in a secure facility outside the area affected by a disaster will be able to access their information even though their primary servers may be down.
The Importance of Disaster Recovery
Now that almost all business transactions happen electronically and are stored on computers, it is imperative for businesses to consider the costs should the day-to-day information used to conduct business be lost. Take the hypothetical example of a business recently destroyed by a fire that does NOT have a disaster recovery plan:
"That business would need to purchase new servers, find a datacenter to put their new servers in, and have the servers shipped and assembled at the new location. Only then can they upload those servers with the new operating system and begin to bring back all the data that they lost connectivity with."
The recovery time in this scenario would be weeks or even months. The question for the business leadership then becomes how long can the business survive being inoperative.
Having a DR plan in place means that the business has identified its unique RTO/RPO and developed and tested a process that incorporates the appropriate technology solution to support the business' objectives.
Getting Started with Disaster Recovery
The first steps a business takes toward a disaster recovery program require everyone in a business to be on board. Aesoph explains that building a DR plan requires input from the entire team, all the way from C-level management to the IT department:
"A lot of times this is thought of as an IT only problem and really it's not. Because part of determining what disaster recovery service you need is figuring out how much time a business can be without their data."
Having a shared understanding of the potential lost revenue will be the driving force that gets upper level approval to move forward. Here are just a few examples of what to consider when discussing disaster recovery with your team.
Evaluate Inventory – Take a look at your physical and virtual environment and decide which pieces are critical to the business that would need to be recovered immediately.
Evaluate Data – Next, find out what data would need to be restored and what size storage would be needed to host it.
Data Migration Methodology– There is more than one so choose which type of data migration methodology works best for your business.
Taking these steps is a way to ensure that no matter the event, the day-to-day business will remain operational even if the worst should happen. Disaster recovery as a service is not an insignificant cost, but put in the context of lost revenue as a result of inaccessible business, the ROI becomes clear.
Disaster Recovery vs. Backing up your Data
While both are recommended, having a backup process is not the same as having a DR plan.
Aesoph describes a situation that points out the difference between the two and why disaster recovery is so important.
"Backing up your data is great and we encourage it. The Disaster Recovery service is not meant to replace that, however, the problem that comes into play is this – you might have this backed up data, but how are you going to access it in the event of an emergency?

How are you going to build new servers and where are you going to put them?"
A disaster recovery plan not only includes these details, but also outlines the steps needed to get your applications and data reinstalled into your hardware.
"A backup solution does not replace disaster recovery and vice versa."
Learning more about Disaster Recovery
In the event of a disaster, personal safety is the most important concern but having a disaster recovery plan means that businesses have a tested process in place to the critical business data needed in time to resume operations. Speaking with DR experts and building a recovery plan means that a catastrophic event does not necessarily spell disaster for the business.
If you'd like to learn more about starting a disaster recovery plan or if you have questions about what was discussed in this article, please feel free to contact us.