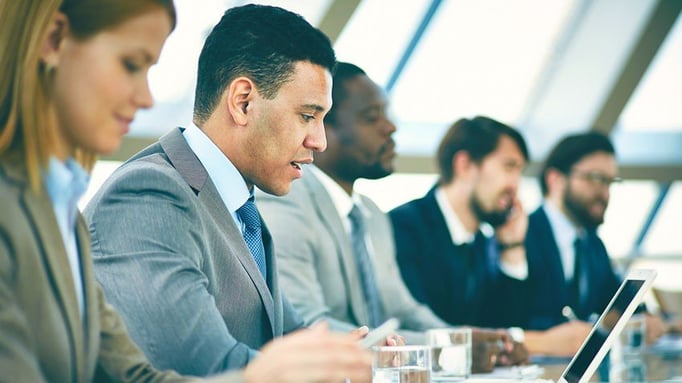 There was a time when the IT Department was separate from the Sales & Marketing Departments, the Finance Department, the Legal Department, and various other departments that were not the IT Department. Today, no business entity can function efficiently or effectively without properly integrating Information Technology into every aspect of business processes.
At the same time, conflicts arise within organizations that don't provide an active role for IT leadership. The goals business leaders have are different than technology leaders and though both groups agree on the benefits of improved functionality and performance, different priorities create challenges that need to be addressed and properly resolved.
When we think about which comes first, a founders' business vision or the capability of new technology to rise above vision and protect all that has been built, we quickly see that both need to work together. The old perceptions of IT functions being limited to basic services and managing infrastructure, have been replaced by sophisticated databases in the cloud with extraordinary, real-time dashboards yielding actionable business intelligence and analytics, and rock solid protection against cyber-attacks.
The new model for IT strategic responsibilities and priorities include:
Improving business effectiveness
Using automation to improving cost efficiency
Reducing information technology related costs
Providing business managers with data to accelerate decision analysis
Creating new business products, services and processes
Managing security and risk
Ensuring data management compliance with regulations
Facilitating entrance to emerging new markets
IT leaders are specifically shaping the strategic perspective by not only having more comprehensive management over the IT infrastructure, but also by maintaining the health and culture of all things IT. Leaders drive the strategy that enables technology to improve business operations, processes and performance while looking forward to partnerships that leverage new technologies. Additionally, new IT projects often require consensus by engaging all business leaders to present new ideas or enhancing existing systems, and this too is by all means strategic leadership.
The most significant reason to offer IT a seat at the Strategic Leadership Table is because IT is the nexus of data and analytics collection, management and interpretation that help the business make decisions smarter and faster. There's so much IT embedded in every aspect of running a business that all leaders should inherently have their foundation based in information technology in order to shape every aspect of their business strategy.
Xigent Solutions specializes in IT services and solutions for mid-market organizations. By partnering with our customers holistically, we engage on both strategic and tactical levels to help them drive greater business outcomes from IT. We do this by helping our clients create and manage Business Efficient IT (BEI) where IT resources – people, process, and technology – are more fully utilized with Xigent's enterprise based methodology to deliver greater outcomes while minimizing IT cost and inefficiency. Contact us today.