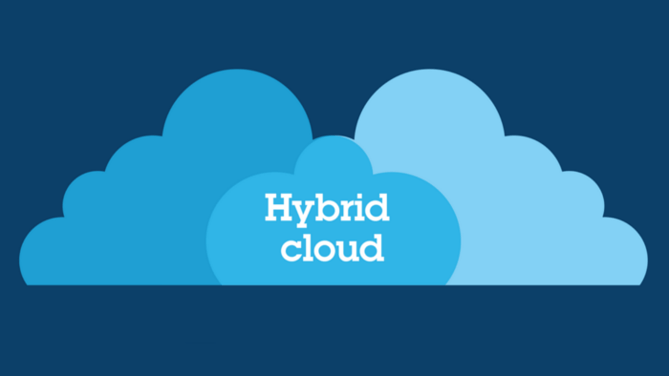 Knowing how a public cloud and private cloud differ is important to understanding what the benefits of a hybrid cloud are. Here are the basics:
Public cloud providers like Google Platform, Amazon Web Services and smaller, full-service cloud providers provide a multi-tenant environment with shared computing resources.
Private cloud is typically on-premises, dedicated to a single organization and usually run by the business. This allows total control over mission-critical workloads and security concerns.
In a hybrid environment, though both clouds remain separate, independent entities, they work together seamlessly and communicate through an encrypted connection and technology that makes data portable.
There are a variety of reasons to consider migrating to a hybrid cloud platform. Going hybrid can be a true game changer - delivering the best of both private and public cloud models while future-proofing your business. From agility to affordability, read on to discover three hybrid cloud advantages.
1. Flexibility
Flexibility is the No. 1 reason most organizations adopt the hybrid cloud approach. The ability to move between the private and public cloud allows for a more agile IT environment as opposed to being locked in to one model. Hybrid cloud solutions make it easier to add new hardware, software and services when and where you need them. Business needs are constantly evolving – a private environment allows your IT staff to build and test new software using their existing IT resources and architecture. Hybrid provides portability – applications can be moved across clouds or your data center, with minimal downtime and re-structuring.
2. Cost-Effectiveness
By leveraging the benefits of hybrid cloud, businesses can see a reduction in total cost of ownership and improve cost efficiency. First off, there's little need to replace legacy technology – a hybrid cloud model can bridge the gap between your old and new systems. As your business grows, data center demands intensify. Excess strain on data centers creates a decrease in efficiency. Instead of upgrading your equipment and storage, you can save money by simply offloading non-essential tasks onto a cloud-storage system and dedicate on-site resources to critical tasks.
3. Improved Security
Sensitive data and information can be safely stored on a private cloud while using the public cloud to run apps that require that same data. Securing personal information is always a priority, however this level of security is also ideal for organizations such as healthcare providers or accounting firms with customers who rely on them to keep their sensitive data protected. With hybrid cloud, you can store secure customer data on a dedicated server, and leverage the high performance and scalability of the cloud to seamlessly do business and perform online payment transactions all within an agile and secure environment.
Successful hybrid cloud migration requires planning and coordination to minimize business disruption. We're here to help you manage all these details seamlessly and determine which cloud model is right for your business. Contact your Xigent team today.
About Xigent Solutions
Xigent Solutions specializes in IT services and solutions for mid-market organizations. By partnering with our customers holistically, we engage on both strategic and tactical levels to help them drive greater business outcomes from IT. We do this by helping our clients create and manage Business Efficient IT (BEI) where IT resources – people, process and technology – are more fully utilized with Xigent's enterprise based methodology to deliver greater outcomes while minimizing IT cost and inefficiency.
Sources:
http://searchcloudcomputing.techtarget.com/definition/public-cloud
http://searchcloudcomputing.techtarget.com/definition/private-cloud