This even has been rescheduled from its original date.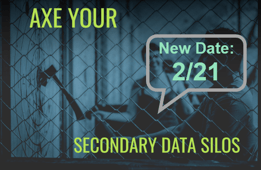 WHEN: Thursday, February 21, 2019 • 4 p.m. To 6 p.m.
WHERE: Bad Axe Throwing • 2505 Kennedy St. NE, Suite A • Minneapolis, MN 55413
Come and join us on Thursday, February 21, 2019 at Bad Axe Throwing in Northeast Minneapolis for axe throwing, food, beverages, and more!
Enjoy food and beverages courtesy of Xigent Solutions and our co-sponsor, Cohesity.
Not only will you have the opportunity to rub elbows with some of the Twin Cities' best and brightest in our industry, but you'll also learn a radically different approach to data center backup!
The fun begins at 4 p.m. - don't be late!
Spaces are limited — RSVP Here!
About the venue:
Bad Axe is the world's biggest urban axe throwing club. Their mission is to bring the thrill of a traditional Canadian backyard pastime to urban communities. With the help of their talented axe throwing coaches, hundreds of thousands of people have been able to share our passion for throwing axes. Bad Axe Throwing was founded by CEO Mario Zelaya in 2014 and boasts 28 national locations!
About our co-sponsor:
Cohesity simplifies your IT infrastructure by consolidating secondary data silos on a single hyper-converged, web-scale platform. As a software-defined solution, Cohesity spans from your core data center to the cloud and edge, making it easy to manage all your secondary workloads with a single UI.
Cohesity won Gartner's 2018 Customer Choice for Data Center Backup and Recovery Software, a best of VMworld 2018 Finalist. Cohesity's founder and CEO is Mohit Aron, the lead developer of Google File System and co-founder/CTO of Nutanix.