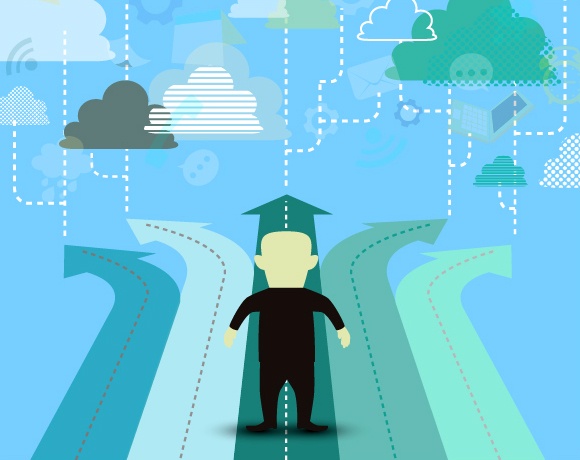 Businesses of all sizes have their sights set on the cloud to drive business and cost efficiencies to gain a competitive advantage by adapting with enterprise-level technology. In fact, Intuit predicts that by 2020, 80 percent of small businesses will be fully adapted to cloud computing. Cloud-based models lower IT costs, free up resources, and support the explosion of IoT, big data, and the mobile workforce.
So if you haven't considered cloud computing yet, now's the time to get acquainted with the pros and cons of the three primary cloud models to determine which option is best for your business.
Private Cloud Pros
A private cloud is dedicated to a single organization and utilizes a proprietary architecture. It's hosted on-site or at a service provider's data center. Private clouds offer some of the same benefits that public clouds do − like self-service and scalability, multi-tenancy, machine provisioning, and the ability to change computing resources on demand. This model is often chosen by businesses that have dynamic and unpredictable computing needs or highly sensitive or critical workloads that require direct control over their environments.
Private Cloud Cons
If the private cloud is located on premise, the company itself is responsible for staffing, management, maintenance, security, and capital expense, just as they would with ownership of a traditional data center. And building a private cloud can be expensive, requiring an initial capital expenditure and future investments as new equipment, applications, and resources are needed.
Public Cloud Pros
With this model, a third party service provider owns the cloud infrastructure and permits access to multiple users and/or businesses. The primary advantages of a public cloud are cost effectiveness and high scalability. Resources are on-demand, making the public cloud highly adaptable to varying workloads. Businesses pay based on usage/consumption, avoiding a large upfront capital expenditure.
Public Cloud Cons
Shared computing environments may not be the best option for businesses with mission-critical workloads, or highly compliant environments. Public cloud performance can also be affected by spikes in use across the internet and costs may increase if you move large amounts of data frequently. When application performance is critical, other models may be the better choice.
Hybrid Cloud Pros
This model combines private and public cloud services with the goal of combining services and data from a variety of cloud models to create a unified, computing environment. Hybrid clouds offer a flexible approach and better utilization of on-site servers and off-site cloud resources to meet changing IT and business needs. And, it's a cost-effective way to bridge the gap between legacy technologies and cloud computing without having to replace existing technology or build a new infrastructure from scratch.
Hybrid Cloud Cons
There can be technical, business, and management challenges with this model because the two platforms must work with each other. Look for an integrated architecture across both cloud models that seamlessly supports workload portability and the ability to move applications and data between both cloud entities.
Successful cloud migration requires planning and coordination to minimize business disruption. We're here to help you manage all these details seamlessly and determine which cloud model is right for your business. Contact your Xigent team today.
About Xigent Solutions
Xigent Solutions specializes in IT services and solutions for mid-market organizations. By partnering with our customers holistically, we engage on both strategic and tactical levels to help them drive greater business outcomes from IT. We do this by helping our clients create and manage Business Efficient IT (BEI) where IT resources – people, process, and technology – are more fully utilized with Xigent's enterprise based methodology to deliver greater outcomes while minimizing IT cost and inefficiency.