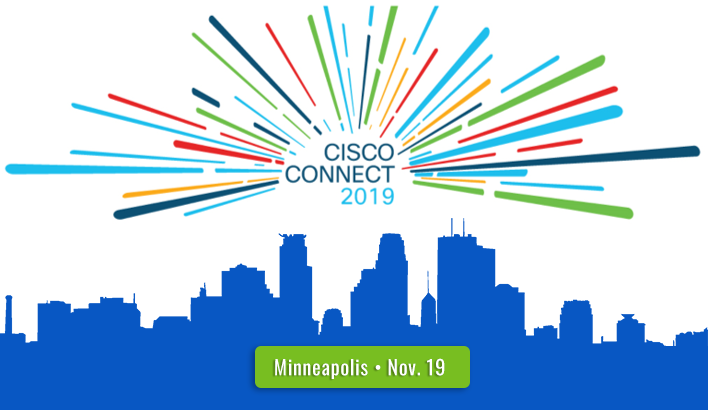 ---
Another year, another top-notch learning and networking experience at the Cisco Connect 2019 Minneapolis event! Cisco Connect conferences are regional, day-long educational sessions designed to deliver inspiration to technology innovators like ourselves worldwide, and this year, was held Tuesday, Nov. 19 at the St. Paul RiverCentre with many of the Twin Cities' top IT minds in attendance. Cisco Connect events help to bring together regional technical masterminds for riveting educational content, professional networking opportunities and the exchange of expert insights from digital transformation leaders.

As a Cisco Premier Partner, we're thrilled to take part as an exhibitor at this annual get-together, as it affords us the chance to meet new industry faces, reconnect with familiar ones and spread the word about the services we provide. This year was no different, as we focused on how to leverage the annual occasion into increased IT efficiency for our Cisco customer base, as well as to enhance future engagements and offerings we'll have using Cisco products and services. Attendees were able to get exclusive access to the latest and greatest products Cisco is introducing to the marketplace to help their users drive improved business outcomes. Read more about what we learned below!

Data Center
---
As always, Cisco provides great data center learning resources for exhibitors and attendees, and remains a foundational element to our business and the value we present in our offerings. We had the chance to listen to presentations surrounding the following subject matter regarding data center: Borderless Data Center, Multicloud Journey with Tetration, IT Modernization with Cisco-powered Private Cloud and Modern Management of Your Environments.
Networking & Security
---
In addition to data center, Cisco networking and security remain key areas of our expertise, and Cisco holds strong as a product leader and innovator year in and year out in these critical spaces. This year we listened on as presenters examined topics titled Securely Connect and Optimize with SD-WAN, Reinventing Access for the Future, Leveraging Cisco Threat Response in the SecOps Environment, Cisco DNA: Your Bridge to Intent Based Network, Stealthwatch in the Enterprise and Using API's to Unlock the Cisco Meraki Cloud Platform, to name a few.
Collaboration
---
Simply put, collaboration solutions have transformed Cisco's business, and business as we know it. They help us and our customers improve business processes, speed up decision-making and boost productivity to new levels. This, in turn, allows users to simplify communication, inspire innovation and empower employees to engage with each other across an array of devices. With the sessions at this year's Cisco Connect Minneapolis, we got the opportunity to hear more on timely collaboration topics like Planning your Calling Journey, Building and Connecting Teams, Driving the Future of Meetings and Customizing Your In-Room Video Experience.
Cisco Umbrella
---
Flexible security delivered via cloud, when and how you need it - that's Cisco Umbrella. This product combines multiple security functions into one solution, so users can enrich their incident response data and easily extend protection to devices and locations anywhere. Because Umbrella is delivered from the cloud, it is the easiest way to protect your users everywhere in minutes. We heightened our knowledge on Cisco Umbrella as we heard presenters discuss Easy and Effective Security, Cisco Umbrella as a Secure Internet Gateway and saw several exercises in a Cisco Umbrella Lab.
We're Here to Help and Answer Questions.
---
If you have a Cisco-related inquiry, or any at all for that matter, don't hesitate to contact us. We will reach out to you shortly for a low-pressure conversation.