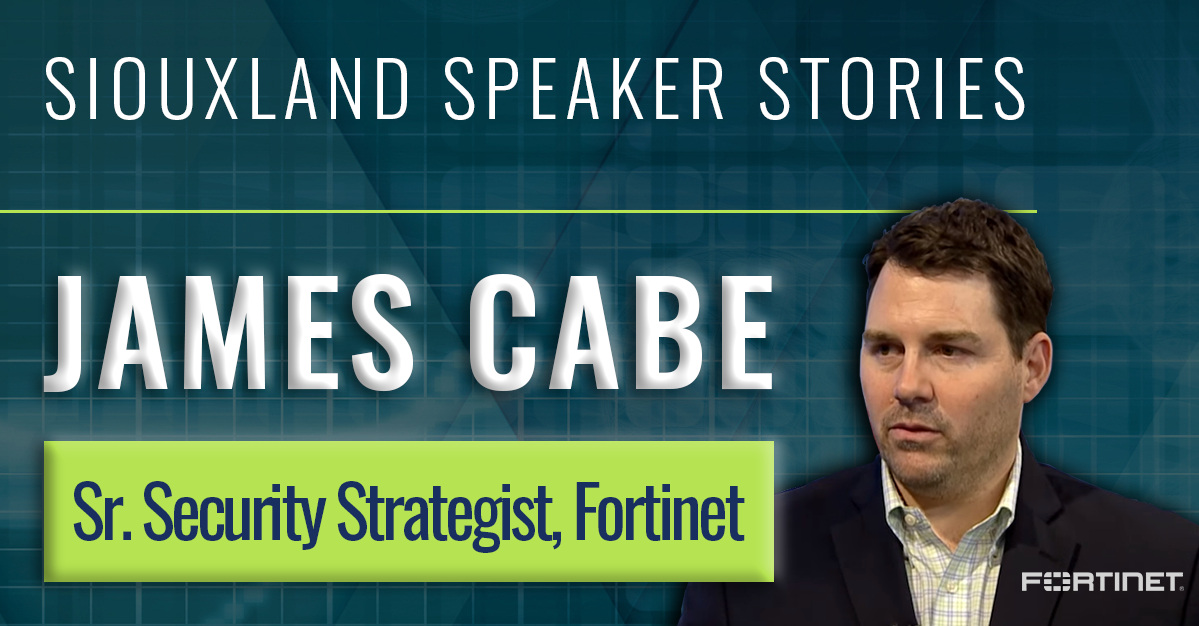 The fifth speaker featured in our Siouxland Speaker Stories blog series is James Cabe. Born in Oakridge, Tenn. – "The Secret City" – James Cabe spent the early years of his career in Cambridge, Mass., working for BBN Planet (Autonomous System 1 on the internet). After being sold to the carrier GTE and spun off during the making of Verizon, James set course for New York and private network consulting and data security for legal firms, commodities trading networks and large global retail. In 2003, James moved to Houston, Texas and began a career in oil and gas.
The large independent E&P company formed an internal international consultancy to handle companies outside the scope of typical American IT operations. Operations in deep water and international made up the better part of the next decade. In the last three years James has worked for Fortinet as a subject matter expert and security evangelist for security architecture, encryption, authentication, and next generation security. James is still based in Houston today.

From the start in 2000, the Fortinet vision has been to deliver broad, truly integrated, high-performance security across the IT infrastructure. The Fortinet Security Fabric platform provides true integration and automation across an organization's security infrastructure, delivering unparalleled protection and visibility to every network segment, device, and appliance, whether virtual, in the cloud, or on-premises. Fortinet has been named in multiple Gartner Magic Quadrants, most recently in 2018.
James and his cohorts at Fortinet provide top-rated network and content security, as well as secure access products that share intelligence and work together to form a cooperative fabric. Their unique security fabric combines security processors, an intuitive operating system, and applied threat intelligence to give you proven security, exceptional performance, and better visibility and control – while providing easier administration.
The Fortinet security fabric delivers a unified approach that is broad, integrated, and automated. Fortinet provides users to reduce and manage the attack surface through integrated broad visibility, stop advanced threats through integrated AI-driven breach prevention, and reduce complexity through automated operations and orchestration.
Free Download

Just Released: Current Cybersecurity Priorities and Challenges

Released May 9, 2019