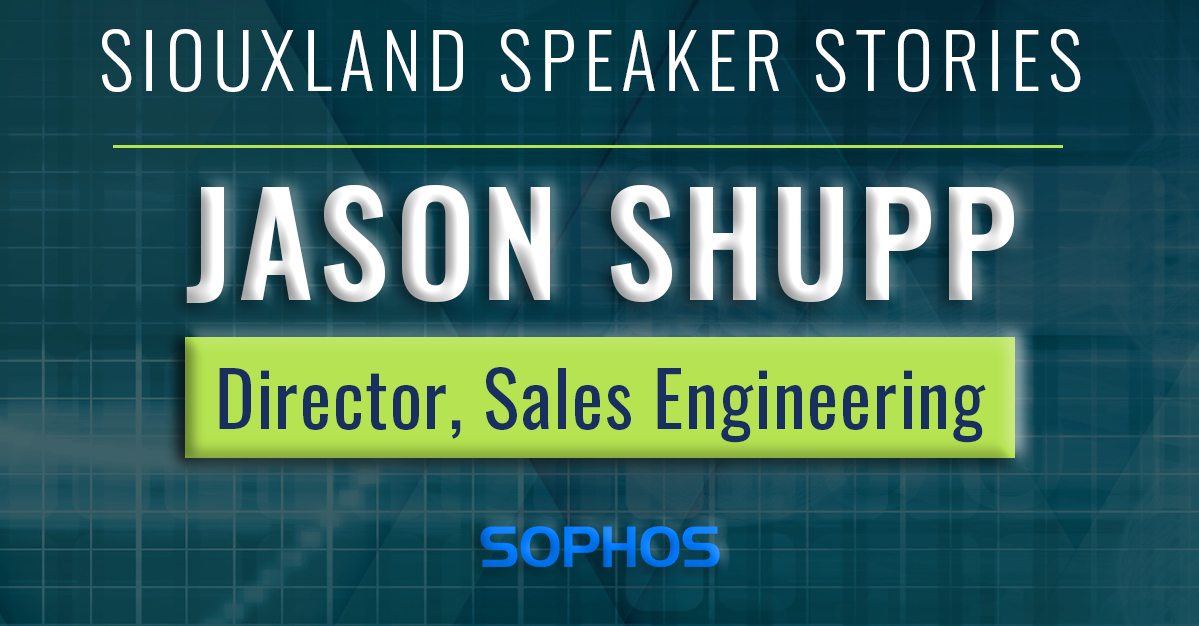 Over the past few weeks, we've been sharing our Siouxland Speaker Stories blog series, detailing the various industry experts who will be featured as event speakers this Thursday, May 16 at the Siouxland Cybersecurity Forum hosted by Xigent Solutions at Hilton Garden Inn Downtown in Sioux Falls. So far we've featured Cisco's Sean Mason, John Harmon of FRSecure, James Cabe of Fortinet and Pat Snow from the State of South Dakota. Last but not least we introduce you to Jason Shupp, director of sales engineering with Sophos. Sophos began producing antivirus and encryption products over 30 years ago. Today, their products help secure the networks used by 100 million people in 150 countries and 100,000 businesses, including many of Xigent's trusted clients in the Midwest and beyond.
Jason is a cybersecurity expert with more than two decades worth of experience in the technology industry. Jason kicked off his career in the United States Marine Corps as a tactical network specialist. Since then, he has worked for various companies including Symantec, ArcSight and Hewlett-Packard. After spending the better part of the 2010s as a sales engineer, Jason became director of sales engineering as Sophos. Today, Jason resides in the Philadelphia area.
| | |
| --- | --- |
| A long time ago a wise man said "prevention is better than cure." That same wisdom is especially true today, perhaps more than ever, when talking about IT security. As IT networks grow in complexity, Sophos has focused on keeping its IT security products simple and reliable. Xigent Solutions specializes in helping mid-market organizations develop and run a security program that is appropriately sized, comprehensive and tested. We protect our business and customers with a security plan that delivers resilience. We know a | Results of independent survey of 3,100 IT managers commissioned by Sophos. Download it here! |
proper security strategy must include networks, servers and devices — all devices — managed easily through the cloud. Sophos products help Xigent secure every endpoint of a client network, from laptops to virtual desktops and servers, to web and email traffic and mobile devices.