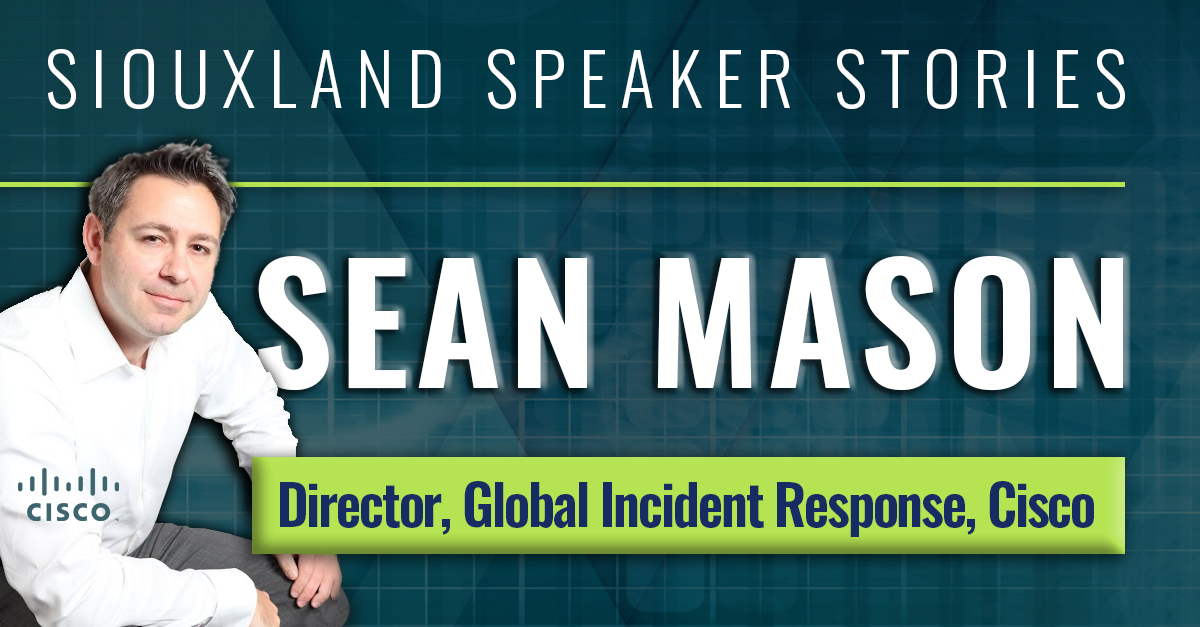 This post marks the first of our 6-part blog series detailing our exciting group of event speakers for our annual professional event, the Siouxland Cybersecurity Forum, which takes place Thursday, May 16 in Sioux Falls, South Dakota. Our event, held at the Hilton Garden Inn Downtown, is aimed at bringing Midwest IT professionals together to take part in educational sessions, best practice discussions, and of course – a little fun, and is free to attend. Our attendees are comprised of mid-to-senior level IT professionals from midsized to enterprise companies.
Sean Mason join us from Florida and heads up an impressive list of cybersecurity experts who will travel across the nation to Sioux Falls to enlighten our audience with rich industry knowledge and experience in building and refining the actual products we use. Sean is the Director of Global Incident Response Practice at Cisco, and after serving his commitment to the United States Air Force, Sean has spent his career with Fortune 500 companies like General Electric, Monsanto and Harris, in addition to Cisco.
Mason served as the Defense Industrial Base (DIB) representative for Harris from 2009-2011, helping to design and implement their (SOC) and (IRT). Also notable is that Sean was the Director of Incident Response for GE for a number of years, which included designing and leading the build-outs of their SOC and Cyber Crime IR Teams. Sean earned his Bachelor of Science in management information systems from McKendree University in Lebanon, Illinois, and went on to acquire his Master of Science from Webster University in St. Louis. Sean also retains an abundance of industry certifications and dedicates time to ISC2, helping to design and develop certifications and exams such as the CISSP, CSSLP, and ISSMP.
Cisco has been a key partner in Xigent Solutions' success over the years. Xigent is a Cisco Premier Partner1, and we also employ Cisco server and networking products in our datacenters located in the Twin Cities and Sioux Falls. We firmly believe that in these times of rapid evolution in our industry, we needed to deliver speakers who not only are profound subject matter experts, but also well-tenured individuals who have witnessed the advances across the industry landscape for a number of years, if not decades. Interested in learning even more about Sean and his groundbreaking work at Cisco? Click here to visit Sean's blog section at Cisco's website.

Visit our Speaker Stories page to see who else will be speaking, and stay tuned for more from the Xigent Solutions blog!