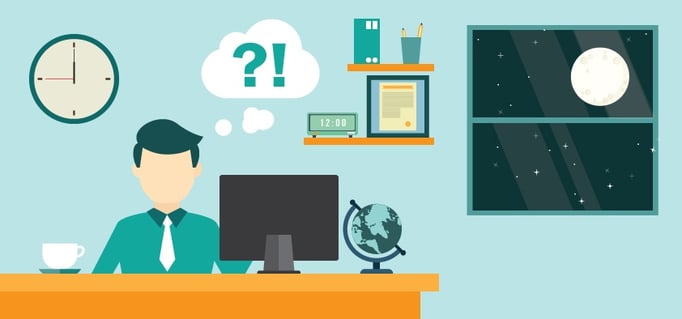 From cybersecurity headlines to backup and recovery woes to IT staffing concerns, it's no wonder that CIOs might have a little trouble falling asleep at night. Earlier this year, the Society for Information Management's (SIM) 2017 IT Trends Study, noted these as three of the top concerns keeping today's IT leaders tossing and turning.1
1. Cybersecurity
Unsurprisingly, cybersecurity ranked No. 1 as IT Leaders' Most Worrisome IT Management Issue. Keeping up with the always-evolving security landscape is by far the biggest challenge for organizations of any size and protecting sensitive data from security vulnerabilities is something nearly all businesses struggle with. Between Verizon and Equifax, this year alone brought about some of the biggest data breaches ever. And with ransomware shutting down one out of five small businesses, this is sure to remain a major concern for CIOs.
2. Disaster Recovery/Business and IT Continuity Planning
Whether it's a natural disaster, security breach, or human error, CIOs are expected to keep the business up and running with zero downtime. 2017 has seen a significant increase in both natural disasters and cyber-attacks, and now more than ever CIOs need to keep disaster recovery (DR) top of mind. Disaster recovery and business continuity planning play vital roles in the overall risk management for any organization. Creating a documented disaster prevention and recovery plan and reviewing and updating it regularly is dire for IT leaders. IT continuity planning means developing a set of procedures to keep all aspects of a business functioning, not just technology systems, following a cyberattack or natural disaster.
3. Talent Management
Nationwide IT unemployment has been running at about 2 to 2.5 percent. Manpower Group's 2016-2017 Talent Shortage Survey corroborates that statistic with 37 percent of IT managers reporting spending three to six months trying to fill IT staff openings. For 15 percent of IT managers, it took longer than six months to find the right talent match for open positions. It's no surprise IT leaders consider staffing a challenge. Finding, motivating, and keeping qualified tech team members is essential for a CIOs success and one reason so many are turning to manage services to solve this problem.
Sleep better
The technology landscape is ever-changing, and CIO roles are mirroring that. If IT leaders can successfully manage these three issues they stand a better chance of getting a good night's rest.
What IT challenges and concerns are keeping you up at night? From implementing Cisco security solutions to our Recovery-as-a-Service offering, we're here to help with all of your technology needs, so you can focus on growing your business. Contact your Xigent team today.
About Xigent Solutions
Xigent Solutions specializes in IT services and solutions for mid-market organizations. By partnering with our customers holistically, we engage on both strategic and tactical levels to help them drive greater business outcomes from IT. We do this by helping our clients create and manage Business Efficient IT (BEI) where IT resources—people, process and technology—are more fully utilized with Xigent's enterprise-based methodology to deliver greater outcomes while minimizing IT cost and inefficiency.
Sources:
1The survey, taken by 1,213 individual SIM members (including 490 CIOs) at 801 mostly U.S.-based organizations, includes a section of "Most Worrisome Technologies."
https://www.networkworld.com/article/3131834/careers/breaches-it-skills-innovation-keeping-cios-up-at-night.html