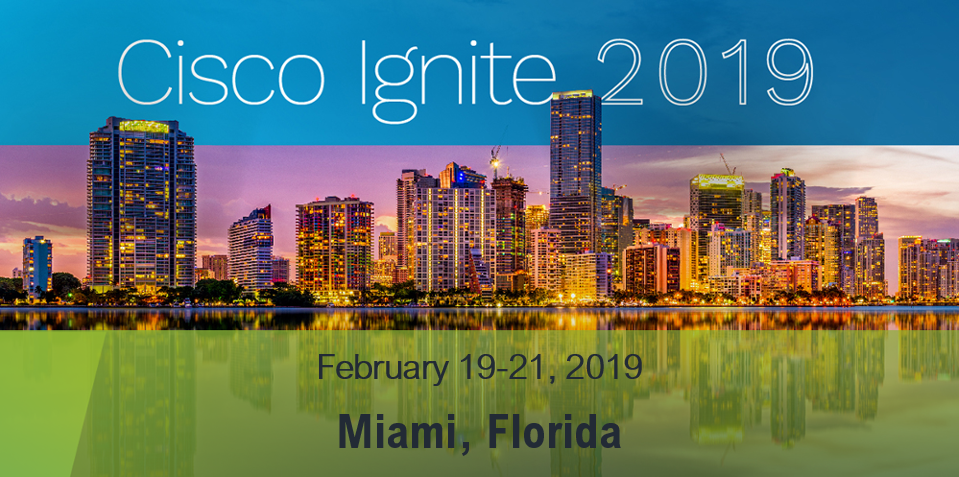 MIAMI – Last week, Xigent VP of product management Mike Gove attended the ninth annual Ignite event, co-hosted by TechData Corporation and Cisco, which focused on Cisco-enabled business growth for IT solution providers. The three-day event, which took place at the JW Marriott Marquis in sunny Miami, Florida from February 19-21, included educational breakout sessions and was aimed at growth and training around Cisco products.
Ignite is an exclusive yearlong community holding an annual kickoff event featuring deep-diving breakout sessions centered on business development, training and value proposition. The Ignite community holds a proven track record in helping its business partners provide superior account plan and strategy management for it's end users.
Attendees to this invite-only event enjoyed featured speakers, including Cisco executives and had the opportunity to engage in strategic networking opportunities with peers, as well as both Cisco TechData representatives.
ABOUT CISCO:
Cisco (NASDAQ: CSCO) was founded in 1984 by a group of computer scientists from Stanford University. Since inception, Cisco has been a leader in the development of internet protocol (IP)-based networking technologies. Today, with more than 71,000 employees across the globe, this tradition of innovation continues with industry-leading products and solutions in the company's core areas of routing and switching, in addition to advanced tech like home networking, security, storage area networking, IP telephony, optical networking, and more.
ABOUT TECHDATA CORPORATION:
TechData (NASDAQ: TECD) is one of the largest technology distributors in the world. They help companies like Cisco, Microsoft, Hewlett-Packard, Apple – and hundreds of others – bring their technology solutions to market. TechData certifies, instructs, trains and supports their distribution partners, and assists in configuration, installation, and financing product and service purchases.